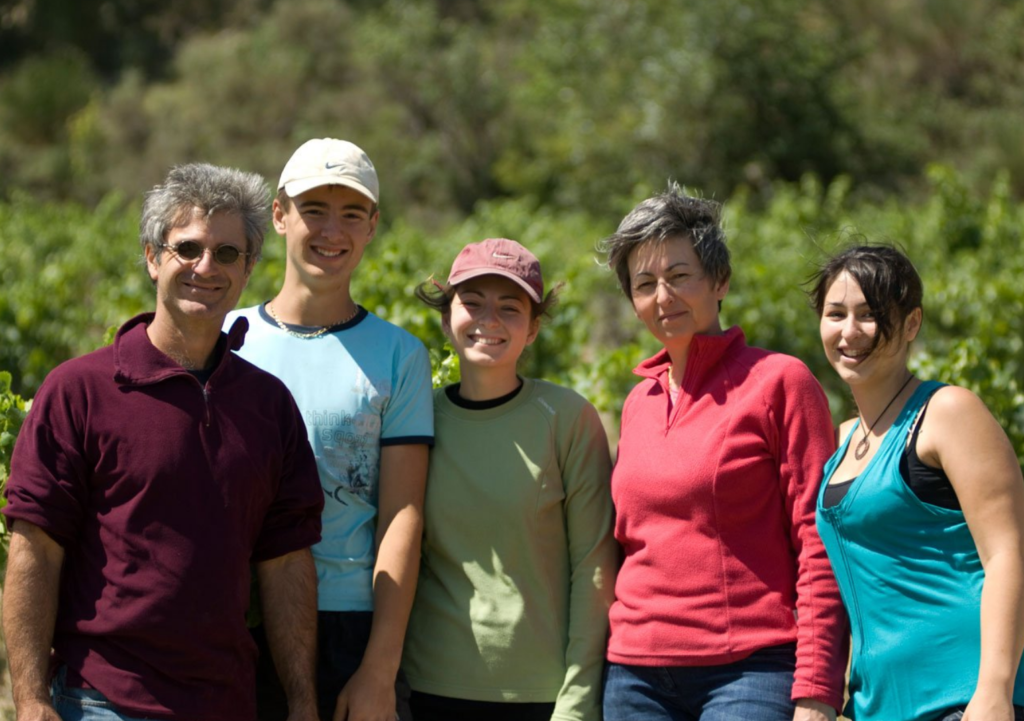 Describe the people of Domaine Montirius and the estate cared for by you.
"People of Montirius are the 5th (Eric and Christine Saurel) and 6th (Justine and Manon Saurel) generation, taking care of vines and wine together. We have 12 people who support us as annual workers and 30 more people for harvest time. All of us are passionate, we evolve all the time and we share our knowledge. We are all fond of Montirius vines, wines and the precision of each action we take in nature and in the cellar. We are all proud of giving you the best in each bottle of wine."
There are so many lovely wines from Southern Rhone. What differs the wines from Domaine Montirius from others in general?
"Montirius shows the new road of Southern Rhone Valley wine. Being the first domaine of the area vinifying without barrels and foudre since 15 years. We have a significant experience to reveal the freshness, the balance, the harmony, the sweetness (without residual sugar), the saltiness and the silky tannins in wines only with grapes. We have a real experience as well of how to maintain the life, the link between the vineyard and the wine in the bottle. When you drink Montirius wines you drink the life given by the vine to the grapes."
What is for you the most complicated part in winemaking and how do you deal with this?
The D day to start harvest. To be completely within the process of the cycle of the vines. Feeling, tasting the message of the maturity of the grapes and following the sap in the vines. Finding in our spirit the way reducing the pressure on our shoulders of the key moment to start picking the grapes."
The most fun part in working with wines and spirits and why?
Harvest for sure! When sharing the pleasure of picking grapes, a lot of people gathered among the vines, smiling, exchanging experiences, all together. Having coffee and cakes every morning at 6h30 AM. Melting all our life and energy for the best of the grapes and future wine.
What is biodynamics to you?
Biodynamic is our way of life since 31 years. It has completely changed the reality of our private and professional life. It gives a big smile to our faces everyday of our life. We know that everyday is a new challenge and a new discovery for all of us. It is our way to evolve in our spirit. It is never finished to learn and to improve in wine and mother Earth.
The wines featured in the box, what can one expect from them when opened?
To suddenly being transported to a sunny place with a blue sky. The vision of spring and summer time with brilliant light. Having in your head the cicadas singing, Montirius vines and Dentelles de Montmirail in front of you. Smiles from happy winegrowers taking care of branches with green leaves, waiting for the new grapes.
Drink now or keep in the cellar for future pleasure?
Drinking now is a fantastic immediate pleasure of a juicy and vibrant wine. Keep it in your cellar and the wine will be patient, evolving its strong energy and keeping all its character of equilibrium and becoming a more harmonious and generous wine.

What would you prefer to eat with the wines if you may choose?
"We are epicureans so that makes it difficult to choose… I would say tuna with olive oil and hint of herbal salt, truffle with omelette, tomato tart with mustard and goat cheese, barbecue of fish or beef, lamb with spices and raisin…"
Your passionate winegrower
Christine and the Montirius family
VACQUEYRAS LE CLOS OCH GARRIGUES – NYHETER MARS 2021
Två bäriga, maffiga sydfranska uttryck från familjen Montirus lanseras 9 mars på Systembolaget, för beställning till dina rätter på kött eller vegetariskt, med färska örter, rotfruktsgratäng och goda ostar. Klicka hem via länkarna nedan.
• Domaine Montirius Garrigues 2019, nr 93391, 199 kr
• Domaine Montirius Le Clos 2018, nr 93390, 269 kr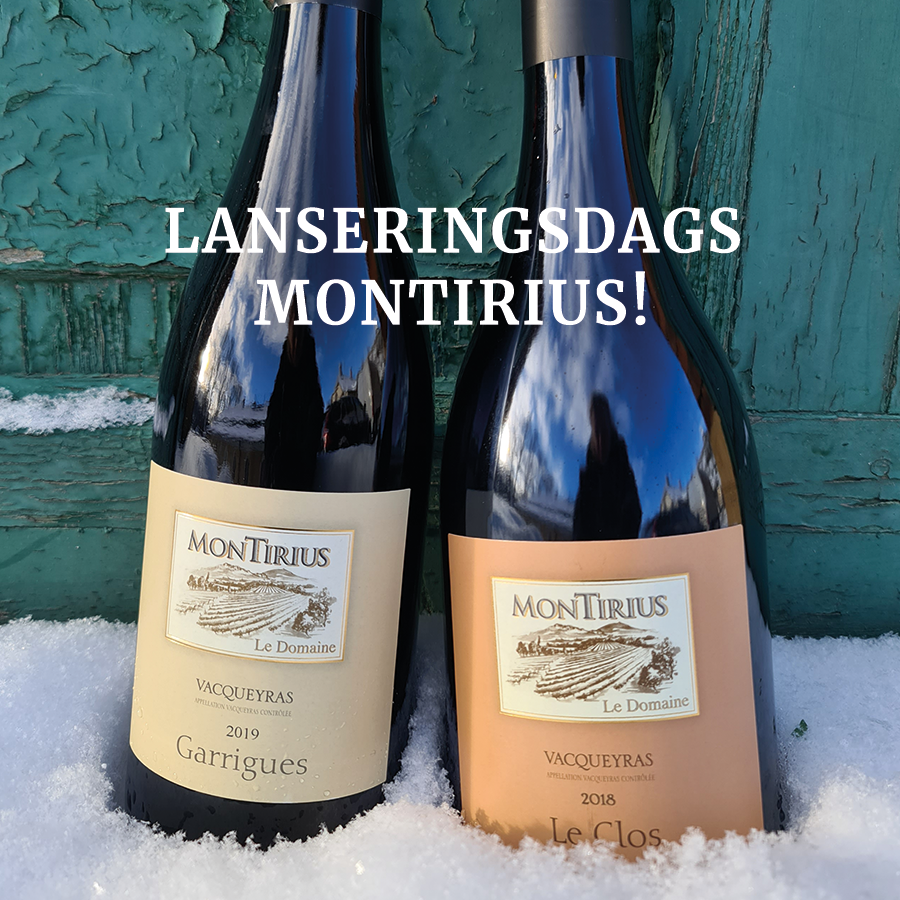 MONTIRIUS GIGONDASLÅDAN
Januari 2021 startar alltså med två goda röda cuvéer från Gigondas i södra Rhône. Här är det rent, fruktdrivet och naturligt hela vägen, fina uttryck av terroir och en toppenbra möjlighet att djupdyka i Gigondas i en miniprovning. Du beställer lådan här.
För båda vinerna gäller Grenache och Mourvèdre, ingen ek och 6-7 års lagring på flaska.
• 1 x Montirius Gigondas Terre des Ainés 2015, 750 ml, 14,5%
• 1 x Montirius Gigondas Confidentiel 2014, 750 ml, 13,5%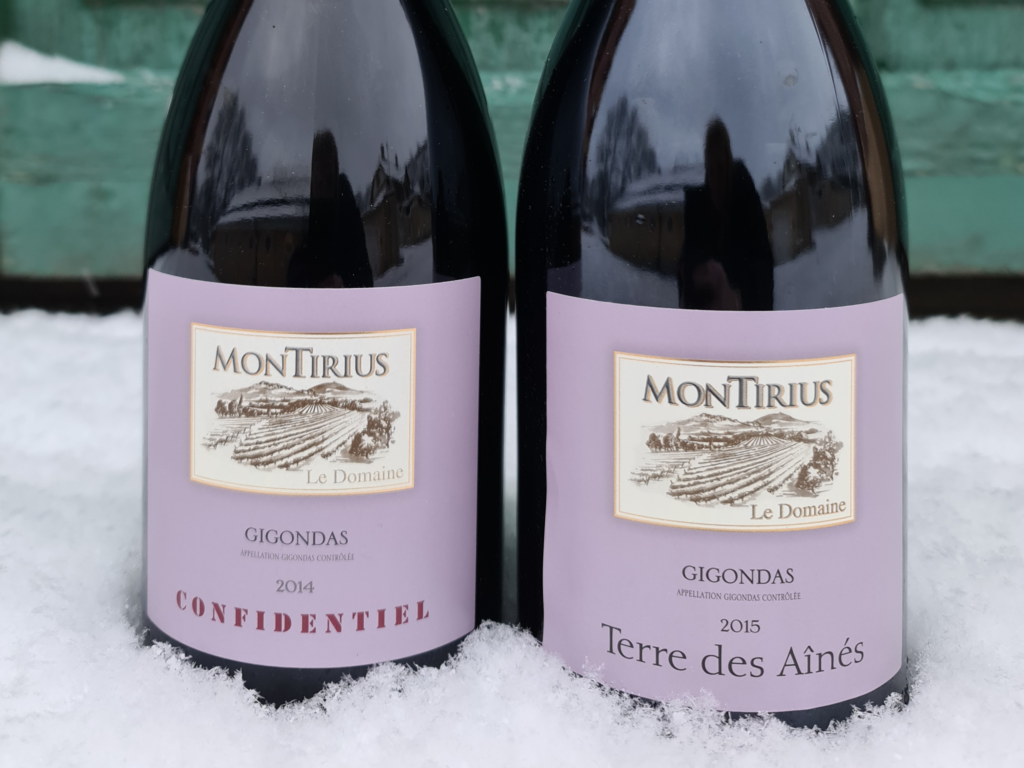 MONTIRIUSLÅDAN RÖTT VIN
Blandlåda med tre flaskor, 750ml x 3, från södra Rhône. Du beställer lådan här.
• 1x Les Violettes Vin de Pays de Vaucluse 2019
100 procent syrah, 60-åriga vinrankor, tio månader på cementfat.
• 1x Le Villages Vacqueyras 2019
80 procent grenache, 20 procent syrah, 30-åriga vinrankor, sex månader på cementfat.
• 1x Jardin Secret Côtes du Rhône 2016
100 procent grenache, 60-åriga vinrankor, 18 månader på cementfat.