Vegalfaro har siktet intsällt på hållbarhet fullt ut – ekologisk produktion och biodynamisk inriktning, mångfald och helhetstanke i vingården. Andrés Valiente och hans son Rodolfo startade verksamheten tillsammans 1999. Sedan dess har Rodolfo strävat efter att utveckla en personlig stil, allltid med fokus på ekologi. Viner produceras i tre ursprung, bland annat DO Cava. Testa ett prisvärt kvalitetsbubbel från Vegalfara och njut det till en paella. Och läs Rodolfos hälsning nedan!

Vegalfaro Caprasia Cava Brut Nature Reserva, 189 kr Beställ vinet här >
Druvorna Macabeo och Chardonnay ger här ett vin med många fina bubblor. Vita blommor, stenfrukt, gröna äpplen och mogna päron plus nyanser av bröd och hö. Torrt och krispigt, samtidigt med krämig mousse. Ett perfekt sällskapsvin.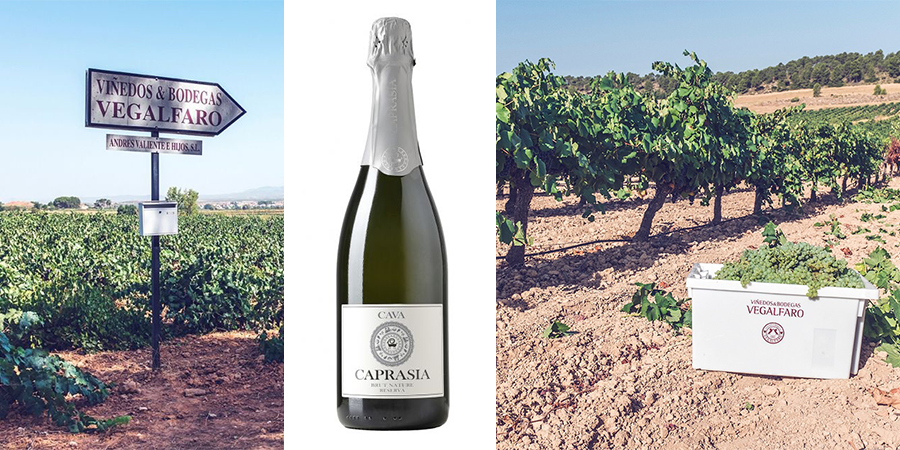 Vinmakaren rapporterar – en hälsning från Vegalfaro och Roberto Valiente

Please describe the people of Vegalfaro and the estate cared for by them
"Vegalfaro´s people who are passionate about the nature and the best humans have made from it – the wine. While everyone is focusing on their area, let it be the vineyard , export or logistics, we are united under the same values of sustainability and the attitude of "Love what you do and you will not have to work a day in your life".
There are so many lovely wines from your region, what differs the cava from Vegalfaro from others in general?
"The first thing that our Cava is Vegan, Organic and Sustainable. It is a blend of two varieties Macabeo and Chardonnay that complement each other so that together they have a balance of freshness and complexity."
What is for you the most complicated part in winemaking and how do you deal with this?
"The decision of the Day you harvest the grapes to start winemaking. Analyzing and measuring the parameters for more than 20 previous days to know with certainty what you are looking for."
The most fun part in working with wines and spirits and why?
"The social part with wine lovers in the tastings, with the clients at the fairs, in the restaurants. All what we have been missing so much this past year and now appreciate more than ever…"
What is sustainability for you?
"The use of natural resources to create life. We apply sustainable approach to obtain water through solar panels in case of droughts and letting the plant to continue capturing CO2 from the atmosphere. Also, we have started making the compost to provide microfauna to the soil of our vineyards with the remains from winemaking and pruning."
The cava, what can one expect from it when opened?
"A sensation of balance between the fruit, the aging in the bottle, which is achieved through the passing of time on the less, and the integration of all the components."
Drink now or keep in the cellar for future pleasure?
"When it is release to the market, our Cava has undergone a period of aging that distinguishes it from other cavas for being a Reserva. It is disgorged on the demand and is ready to be consumed straight away. But, of course , you will be able to enjoy this Cava Caprasia up to 20 months after the disgorgement day that is written on the back label."
What would you prefer to eat with the wine if you may choose?
"There is a wide variety of pairing options: seafood, fish, dry rice, pasta, poultry, cheese.."
Best regards, Rudolfo